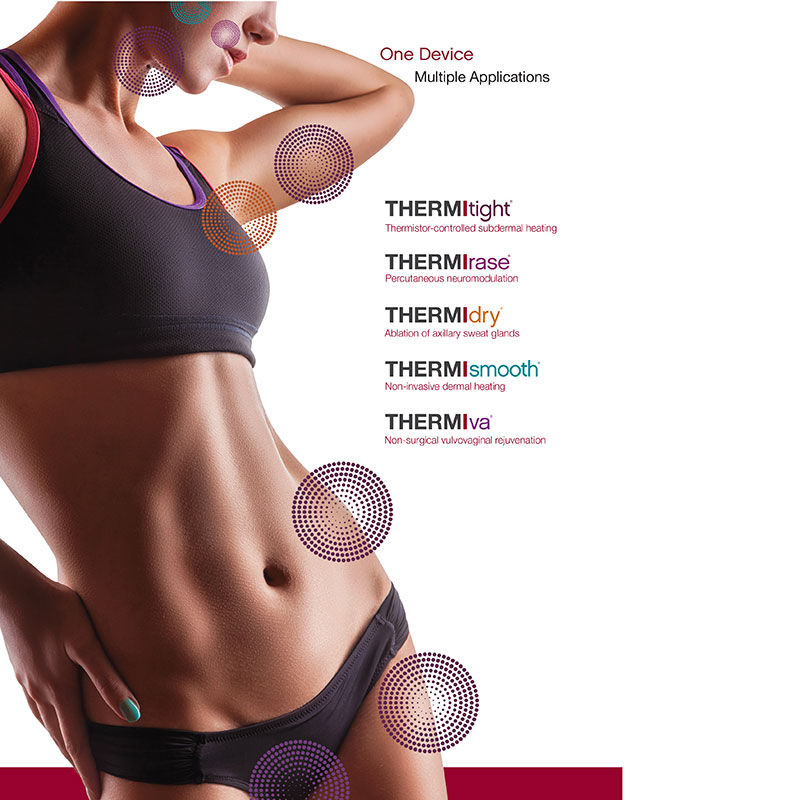 TEMPERATURE CONTROLLED RADIO FREQUENCY
Thermistor regulated RF energy emission
Dual Temperature monitoring for improved safety and predicatable outcomes
Platform Technology
Easy to use
INDICATIONS FOR USE
The ThermiRF and the probesthat are used with it are indicated
for use in dermatological and general surgical proceduresfor electro coagulation and hemostasis
to create lesions in nervous tissue when used in combination with NeuroTherm(previously Smith&Nephew) thermal/coagulation probes.
MULTI-PROCEDURE PLATFORM USING TEMPERATURE AS CLINICAL ENDPOINT
Energy emission is user controlled and application specific to regulate maximum temperature during a timed dosage.
PLATFORM BUNDLE INCLUDES
- Temperature Controlled RF Generator
- Workstation Cart
- Starter Supplies (electrode kits)
- External Nerve Stimulator
- ThermiView Infrared Camera with iPad
- Non-invasive Hand Piece
Clinical Advisory Council Opportunity
ThermiAesthetics hasorganized a Clinical Advisory Council which is designed to further the advancement of clinical applications using ThermiRF. CAC members may participate in data collection and enjoy a free exchange of clinical experiences by participating in frequent educatuonal forums and other events.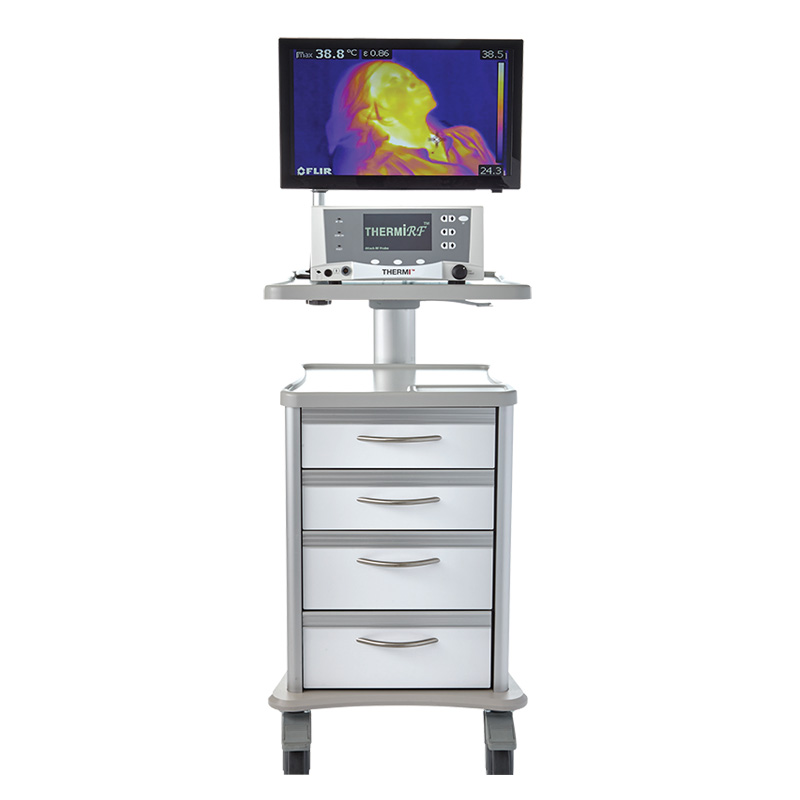 ThermiRF The FIRST InjectableRF
TEMPERATURE CONTROLLED RADIO FREQUENCY
ThermiRF is a unique thermistor-regulated radiofrequency technology designed to safely produce excellent aesthetic outcomes through the application of the science of heat. This is a platform technology, which combines precision temperature control with advanced real-time temperature monitoring to enable a myriad of soft tissue applications.
Science of Heat
Multi-precedure platform using temperature as a clinical endpoint:
Smooth skin @ 42C
Shrink fibrous septae @ 55-65C
Melt fat @ 70C
Disable nerves @ 85C
Energy emission is user-controlled and application specific to regulate maximum temperature during a treatment.
GEM
Good Medicine
Use temperature as a clinical endpoint
Dual temp monitoring (inside/outside)
Safe and predictable results
Easy to Perform
Micro-invasive (18/22ga probes)
Tumescent or local anesthesia
Less than one hour
Makes Money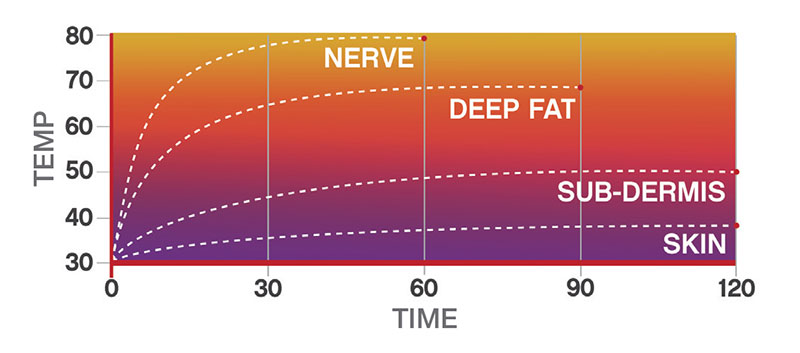 ThermiRF Platform bundle includes:
Temperature controlled RF Generator
Workstation cart
ThermiView infrared camera with monitor
Peripheral nerve stimulator
Starter supplies (assorted InjectableRF electrodes)
Non-invasive hand piece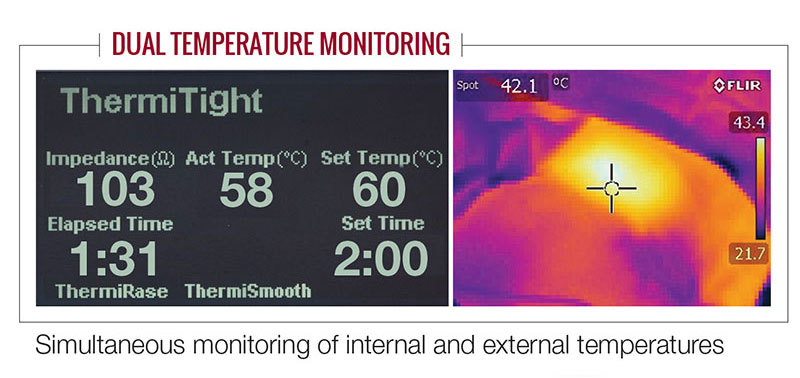 THERMISTOR-CONTROLLED SUBDERMAL HEATING
ThermiTight is the name of a peer-reviewed protocol described as "thermistor-controlled subdermal skin tightening." The ThermiRF system is used along with a tiny thermistor probe, which is inserted under the skin using local anesthesia, to heat subdermal tissues to a user-selected specific temperature. During the ThermiTight procedure, internal temperatures are monitored and regulated by the system computer. In addition, advanced thermal image guidance provides the physician with real time external skin temperature monitoring to ensure precision of the heating effect while maintaining safety.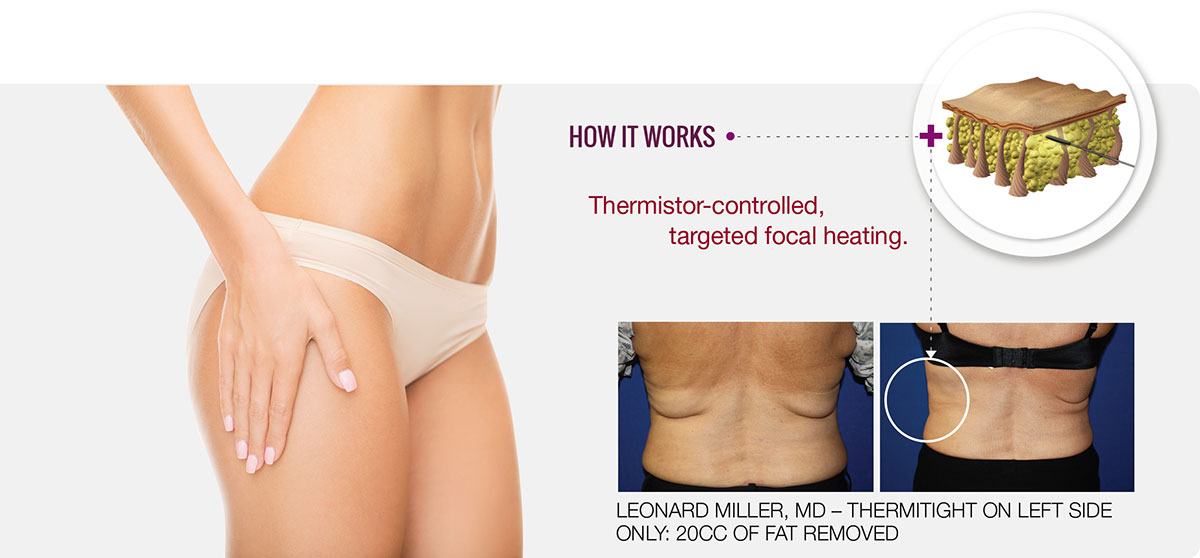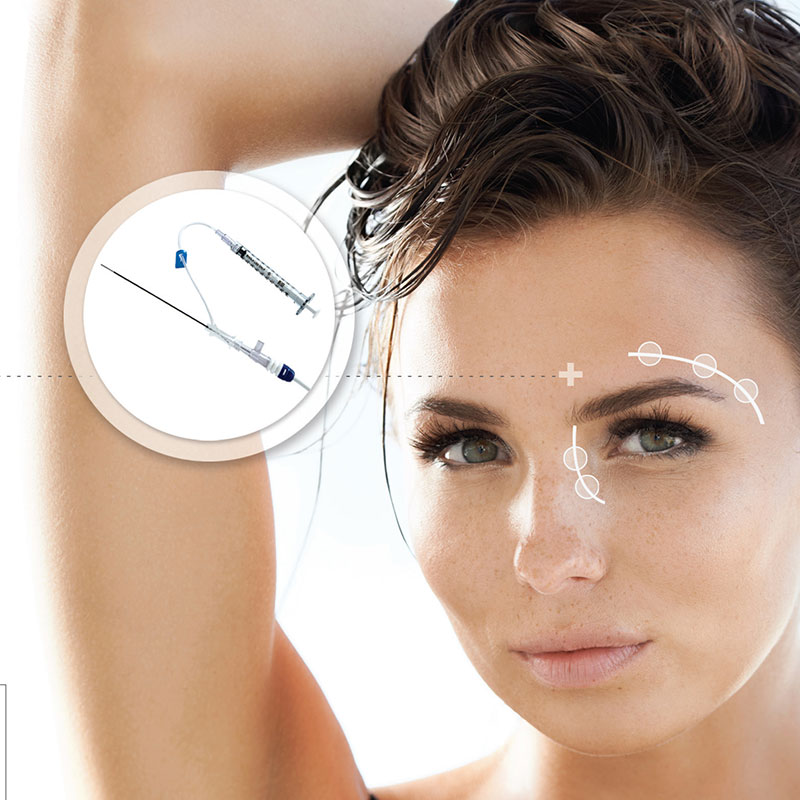 PERCUTANEOUS NEUROMODULATION
ThermiRase is a micro-invasive procedure based on a peer-reviewed protocol to disable the nerves which control the muscles responsible for glabella frown lines. This procedure applies radiofrequency energy to selected motor nerves. In a recent study, the effect lasted more than one year in almost 80% of the subjects, thus validating the opportunity for a long-term alternative to neurotoxins.
HOW IT WORKS
With ThermiRase, a series of themal lesions are created along the nerve pathways which control the muscles that casue frown lines. The effect is immediate.
Simple 3-step protocol:
Stimulate the nerve
Inject local anesthesia
Treat with ThermiRF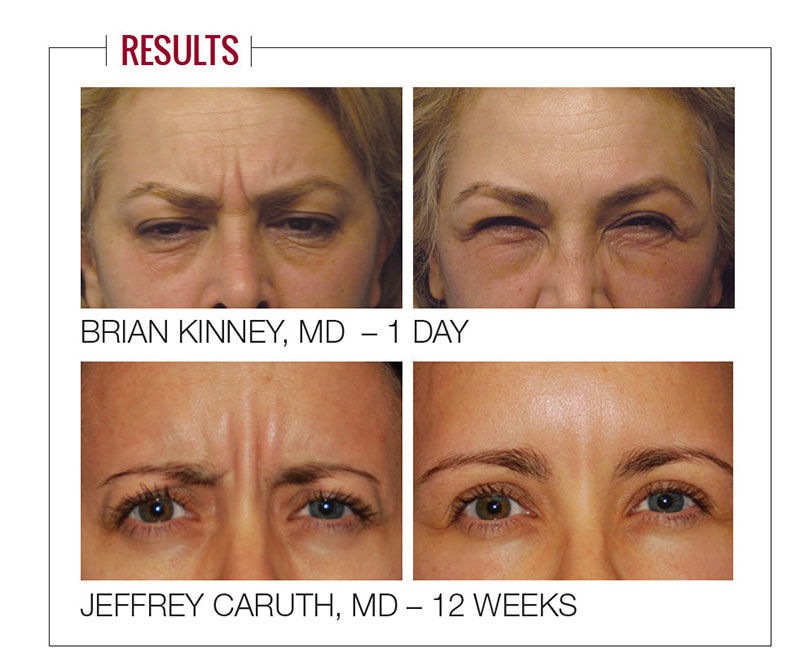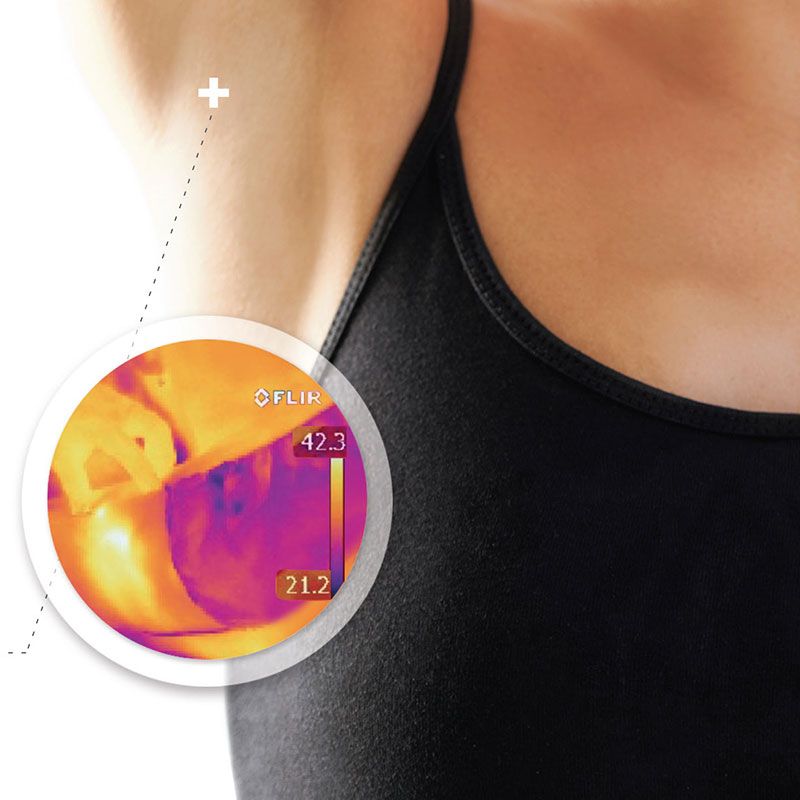 ABLATION OF AXILLARY SWEAT GLANDS
ThermiDry is a minimally-invasive treatment which targets axillary sweat producing glands in the axilla.
HOW IT WORKS
With this technique, similar to ThermiTight, sweat glands are disabled via controlled heating under local anesthesia.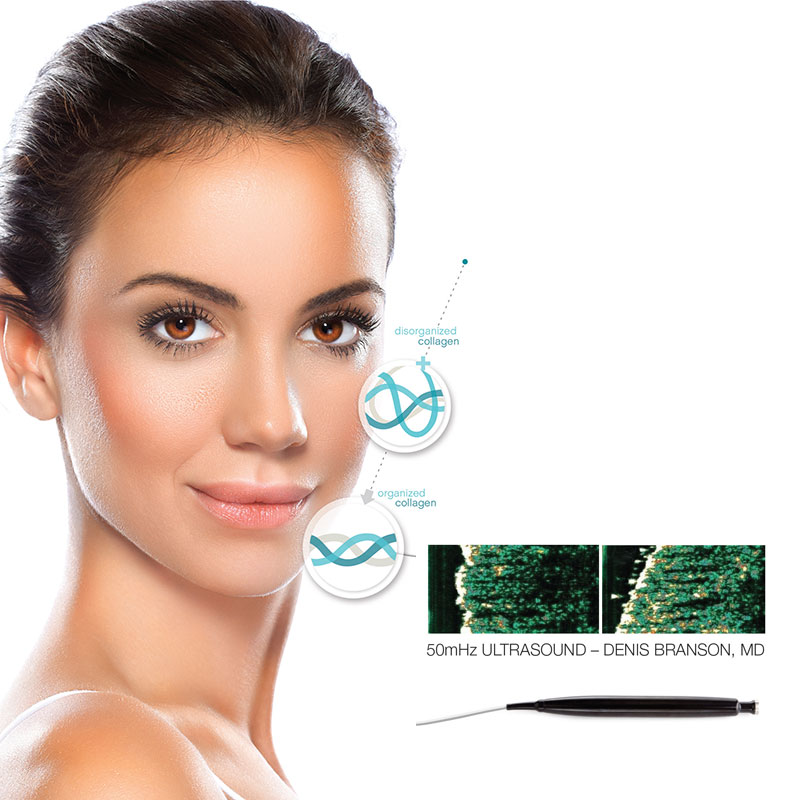 NON-INVASIVE DERMAL HEATING
ThermiSmooth is performed using a specially designed thermistor-regulated hand piece, which delivers precise heating to the skin's surface. There are a series of treatments over 6-8 weeks that are gentle and patients often say it feels like receiving a warm massage.
HOW IT WORKS
Clinical studies show that the collagen in skin will shrink when heated to sustained temperatures in excess of 40C. Further, it has been shown that wen the skin is heated to this level, an inflammatory process is engaged which can stimulate fibroblasts to produce new collagen over a preiod of time.
The ThermiSmooth hand piece is applied to the skin's surface and the ThermiRF controller is set to a specific target temperature (i.e. 42C-45C). The hand piece is gently moved in a sweeping or circular fashion while gradually heating up the skin surface. As the skin's temperature rises to the target temperature, the radiofrequency output automatically adjusts to ensure precision of heating. A small zone is treated for approximately 5-7 minutes to achieve the clinical goal.